Hello everyone! Ready for some lively discussion? Ok, here we go.
This is a new forum feature I plan to update at least once a week discussing the obsession we have with certain foods. Hopefully you will enjoy it.
On to the main event. This weeks food is...
Pizza!
You may notice that the image I have chosen is of a rather odd pizza. Your eyes do not deceive you, that is broccoli and asparagus on the pie. This is not even the weirdest of them. Pizza is a changing art form, a new specification of food with as much variation as chicken. Any topping you can dream of, someone has put it on a pizza and liked it. How did a food of such humble beginnings come to be the huge, international industry defining product it is today?
The pizza is a very old dish, although the current form is quite new. There have been records of pizza-like dishes being eaten as far back as the 6th century, BC (in Greece, no less). This dish would not look like your modern day pizza though. It was simply flat bread, cheese, and sometimes dates and honey. Though a completely different dish, the evolution had to start somewhere.
Pizza took its first big step toward Papa John's with the importation of tomatoes from the New world in 1522. The tomato was at first thought to be poisonous, but it has edged its way quite firmly into Italian cooking (just about every dish uses them). It was the poor people of Naples who started using tomatoes on pizza. This innovation landed Naples on the map as the Pizza capital of the world. Neapolitan pizzaioles have served for royalty, most notably Queen Margherita di Savoia, who the "Pizza Margherita" is named after.
Pizza took its first big step into America in 1905 with Gennaro Lombardi's Pizzeria in New York, New York. From here, pizza began its American evolution. Chicago-style deep-dish pizza was created in 1943 by Ike Sewell in his bar and grill called Pizzeria Uno. This style of pizza is still uniquely associated with Chicago, although you can find the poor brother of it at your neighborhood Pizza Hut.
The pizza industry exploded in the 1950's. Famous Italians such as Frank Sinatra, Joe DiMaggio, and Jerry Colonna help spike the public's interest in this obscure dish. It was even incorporated into a song by Dean Martin. Pizza Chains, such as Dominos and Pizza Hut began to appear. Frozen Pizza became America's number one frozen food, and Pizza started appearing in movies as the hip thing to eat.
Pizza is now a global sensation. I should not even need to point out the... interesting
Japanese creations
, but I will for the uninitiated. The broccoli asparagus pizza above could be considered normal next to some of these monstrosities. I mean, look at this: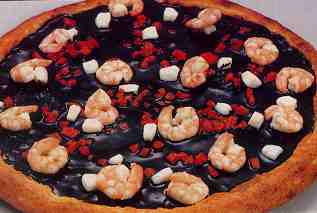 That is a pizza with
squid ink
sauce. This stuff stains your mouth black. Whoever created this deserves a medal or something for being so freaking crazy.
But I digress. The point is the popularity of pizza is spreading. Ask and elementary school student what their favorite food is, and you are likely going to hear them shout out with glee "Pizza!" Pizza requires only the effort it takes to pick up the phone and dial a number. Pizza is good both hot and cold, perfect for leftovers. Pizza can easily serve more than one person and it is hard to find someone who refuses to eat plain cheese. You can put different toppings on different parts of the pizza; pizza is easy to eat on the run. Pizza is the perfect college food. Pizza is easy, affordable, and just tastes good.
Just thank God you don't live in Japan.